Stormwater Management Systems
Create a complete Stormwater Management with belowground or aboveground plastic or fibreglass tanks, filters, diverters, pumps, strainers and many other options for outdoor or indoor use. Control stormwater runoff and pollution while saving money on your water bills.
Control Stormwater Runoff
Graf products can be used to build versatile and customizable underground retention and detention tanks, filter packages, and the revolutionary Ecobloc Smart, which can retain 3 times the volume of other systems.
Ecobloc Smart Stormwater Block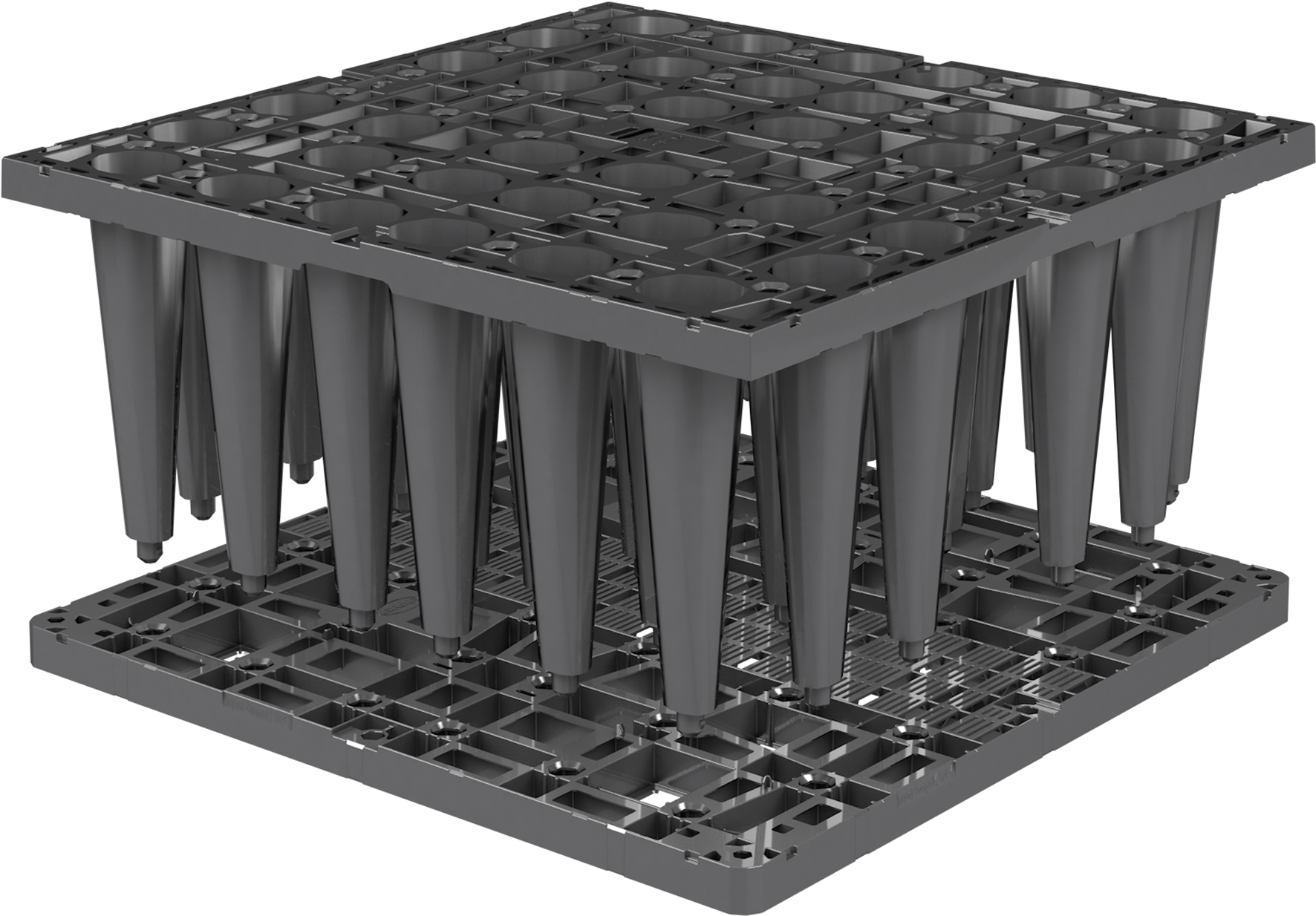 The GRAF Ecobloc Smart stormwater infiltration and retention/detention modules have three times the storage volume of standard drainage gravel. One module can replace around 1300 kg (1.4 tons) of gravel or a 50 m (164′) of 100 mm (4″) drainage pipe. That means there is no need for expensive soil and gravel excavation. The GRAF modules save you money! The GRAF EcoBloc's efficient German design provides a service life of over 50 years with maximum structural capacity and maximum space efficiency for shipping and storage on-site. They are quick and easy to install and can't be matched by any other system. EcoBloc has a wide variety of configurations and burial depths. The EcoBloc Smart, Smart Plus and Smart Ultra still offer a reservoir coefficient of 96%, 95% and 95% respectively.  The Smart and Smart Plus are suitable for HGV loading up to HS-25 as per AASHTO standards.  The EcoBloc Ultra is suitable for high load areas over HS-25 loading or installation with deep earth covering.
GRAF Universal Industrial Filter 3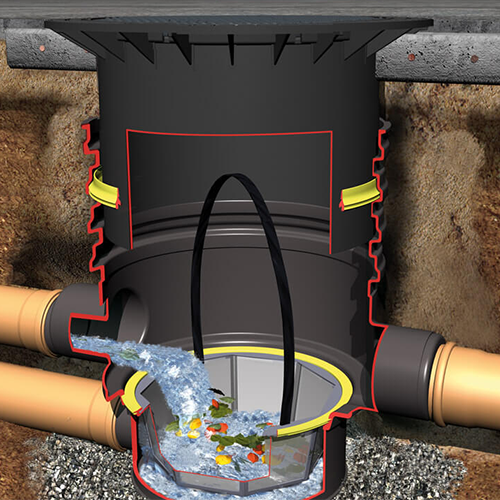 Designed for roof areas up to 13,000 sqft (8″) and 8000 sqft (6″) the Universal 3 filter package is ideal for your next system. Variable installation from 31″ – 48″ allows for flexible installation and integration with standard SDR35 piping (bell end) allows for easy connection to existing systems. The included PVC Gasketed Drain Pipe connects directly to inlets/outlets or through the use of a rubber coupler. This system is available standard with pedestrian loading. Vehicle loading is available as an extra. The Universal 3 Industrial filter is an economical, commercial filter chamber for stormwater filtration and infiltration, as well as rainwater collection.
Continuously variable installation depth of 703 – 1,270 mm (26.7-50.0″) using the telescopic dome shaft
Maximum roof surface area of 750 m² with connections DN 150 and 1,200 m² with DN 200
Only 229 mm height offset between the inlet and the outlet
GRAF Optimax Industrial Filter External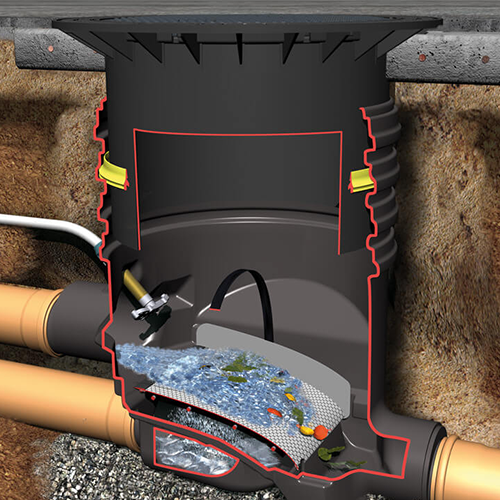 This industrial version of the popular Optimax filter comes with many improvements, including a maximum roof area of 16,000 sqft (using 6″ connections) or 8000 sqft (using 4″ connections) and an extended variable installation depth from 31″ – 48″. The chamber connections are compatible with bell ends of standard SDR35 piping, available with either a durable green lid capable of person loading, or a cast-iron lid capable of vehicle loading. This filter is commonly paired with our Fibreglass Rainwater Collection Tanks in commercial applications. This filter combines convenient low-maintenance technologies with the industry's best material and build quality to provide the best external rainwater filter for your next project.
Smooth installation depths from 733 – 1,320 mm (28.9-51.9″) using the telescopic dome shaft
Maximum roof surface of 750 m² with connections DN 150 and 1,500 m² with DN 200
Only 224 mm height offset between the inlet and outlet
To Learn More About Our Stormwater Management Solutions, Please Get in Touch